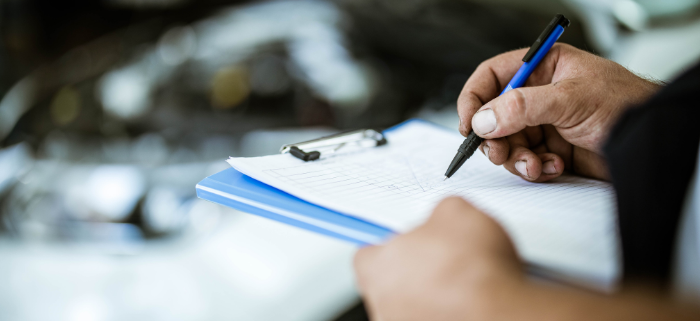 As mobile tire repair experts, our team has logged enough hours on the road that we've handled just about every scenario associated with tires. From loose lug nuts working free from the wheel stud to bald tires to sudden blowouts on the interstate (often caused by bald tires or improper inflation), we've seen it all.
We're on a mission to make sure every driver knows how to evaluate whether the tires on their vehicle make putting the car on the road a safe thing to do—or not.
Check out the safety checklist we've put together for not only our customers. Everyone can use a reminder of what to watch for before letting the rubber hit the road.
Check Tire Air Pressure
Maintaining proper air pressure in each tire doesn't only prevent a flat. It helps extend the life of your tires. Correct air pressure can also help your vehicle get better fuel mileage. 
Checking air pressure is made simple by buying a tire gauge. Keep it in your glove compartment and use it to check the pressure once a month. You should always inflate your tires to the recommended PSI (pounds per square inch) that is noted on the sticker in your driver's door jam, next to your tire information. If you're not comfortable using a tire gauge, most tire stores will check tire pressure for you at no charge.
Check the Tread
Have you ever heard of the penny test? Placing a penny in the vertical groove of a tire makes an easy test for tire tread. Bald tires lose their grip on the road surface, causing you to lose control of your car, not being able to stop safely, and can also lead to a tire blowout.
 The penny test is a proven method to check tire tread.
When you place the penny in the groove of a tire, you'll want to make sure Lincoln's head faces down. If you can see Lincoln's head (including his hair), you need new tires! 
Did you know tire tread of less than 2/32nds of an inch makes the tire legally too worn out for the road?
Inspect for Signs of Irregular Wear
Tires coming right off the tire store shelves are a beautiful sight. Enjoy it because eventually, the tires will wear down and show their age. Even loss of tread is normal, but if you notice any of the following signs of irregular wear, your tires need attention.
Over or underinflation 

Flat spots

Feathering and cupping
The irregular wear pattern on tires is a cause for concern. It's time to think about buying new tires—but don't ponder on it for too long. Ignoring irregular wear could create a safety hazard. 
Any of the above wear patterns can cause hydroplaning, skidding, and sudden tire blowout.
Rotate Your Tires Regularly
Manufacturers do such a great job that tires today last longer and need less attention. Hold on! Less attention doesn't mean you can get away with totally ignoring your tires for months.
If you're not sure when you last rotated your tires, you're not alone. Many drivers never rotate the tires, which sets the tires up for premature or uneven wear.
As part of your tire safety checklist, you'll want to rotate your tires every 5,000 to 7,000 miles. Don't worry if you don't feel like hunkering down and wrangling tires. You can take your vehicle to any tire shop and let the professionals do the job.
Like proper air pressure, regularly rotated tires can boost longevity and help increase your fuel efficiency.
Check the Date on Your Old Spare Tire?
Even if you've never driven on it, at some point, you need to swap out your old spare tire for a new one. Tires age regardless of how often little use they get.
Many things contribute to a tire's aging process, but air quality and temperature play a significant role. Improper storage of tires is another culprit. If you notice cracks in the rubber, the tire has entered the danger zone, and it is recommended to not drive on tires in these conditions.
All tires have a manufactured date embossed on the inside of the tire. If your spare tire is over seven years old, it's probably time to replace it. The same principle goes for the other four tires on your car.
Ready to Shop for New Tires?
Even if you're kind to your tires, rotate them regularly, and go through the items on this tire safety checklist, one day, you'll need new tires.
If it's today, contact Jack Mobile Tire Installation and let one of our expert tire technicians help you. We make it easy to schedule tire service online from your computer or mobile phone. We also bring the tire shop right to you, so you don't have to leave your home or place of work. 
https://jackmobiletire.com/wp-content/uploads/2021/06/tire-checklist.png
461
700
Jack Mobile
http://jackmobiletire.com/wp-content/uploads/2020/10/JACKlogo-wTAGLINE.png
Jack Mobile
2021-05-30 22:57:32
2022-02-16 12:16:22
Our Recommended Tire Safety Checklist