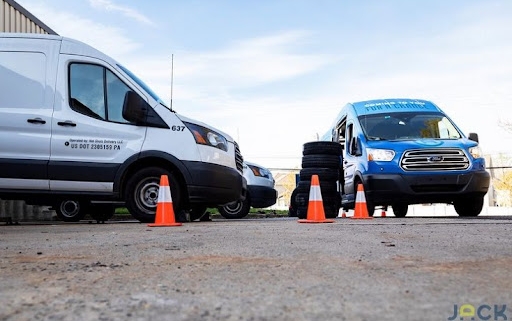 We are certainly in unique times. Businesses and people are trying to make up for the lost time and revenue from 2020. If you manage a vehicle fleet that performs deliveries, handles transporting vehicles, or moving goods – your business is an integral part of our economy. Chances are your company is short staffed, you are doing more within a day than ever before, and it's really hard to find good workers. If this sounds like you, keep reading. We have solutions to help cut down on employees wasting working hours to maintain your vehicle fleet.
Automotive Fleet magazines say the fleet industry will be faced with labor shortages and rising costs for quite a while. Fleets are keeping their vehicles for longer and decreasing investment in new vehicle orders. Fleet managers are increasing the utilization of vehicles or right-sizing the number of vehicles in their fleet.
These challenges are impacting & increasing the frequency of service intervals. If vehicles are going longer before getting a maintenance check, they will be more likely to break down while out on the road. Using a mobile fleet maintenance and repair service provider is one of the ways fleet managers can keep operations running while keeping costs down.
What is Mobile Repair and Service for Fleets?
Mobile repair companies bring their services to the location of the vehicles rather than the vehicle having to return to a maintenance shop. The service location could be a home, office, or the parking lot of McDonald's. The technician arrives with the equipment and expertise to complete the tire change or maintenance work on-site. The service provided could be part of a regular maintenance schedule or emergency repair. Mobile repair and service companies provide many benefits for a fleet manager compared to in-house or workshop repair options.
How do Mobile Repair and Service Companies Benefit Fleet Managers?
Time Saver and Reduction of Downtime
Since a mobile repair and service provider comes to the location of the vehicle you do not need to waste time having your staff bring it to a tire shop or repair facility. Some companies will provide service around the clock. You can request your repair work at a time and location that fits your schedule. You are not locked into fixed business hours of bringing a vehicle back in-house or sending it to a repair shop. This helps minimize your downtime and keep your vehicle on the road earning you money.
Reduced Employment Costs
A mobile repair company is available on-demand. By using a mobile repair company fleet managers do not need to hire staff, pay wages, and have an extra liability. It also means the company and fleet manager does not need to cover costs of sick leave, insurance benefits, or training.
Reduction in Overhead Costs
Holding parts in inventory means money tied up in tires, oil, and brake pads that are sitting on a shelf waiting to be used. Mobile repair companies take on the overhead costs of holding the inventory of parts, so you don't have to.
Expertise
In-house technicians may not be trained for all the jobs across a variety of vehicle models. Mobile fleet service companies will match certified technicians with the scheduled job to manage all vehicles and service requirements. They will provide recommendations on parts, warranty, and future service needs.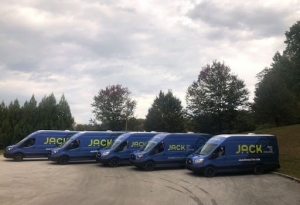 Reduced Equipment Costs
The capital expense of purchasing or leasing repair equipment to complete all tasks does not make sense if some equipment is only used some of the time. A mobile repair company also takes on this carrying cost to ensure they have all the equipment required to repair on location.
Contactless Service
COVID-19 has changed the way people want to do business. Using a mobile repair and service provider means fewer people handling the vehicle than in a workshop environment. It also means avoiding crowded driver's lounges waiting for vehicle work to be completed. Booking and payment online also reduces contact with other people.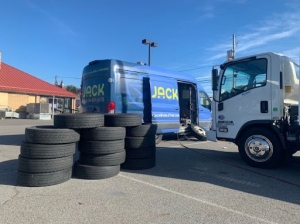 Jack's Got Your Back
JACK Mobile specializes in tire installation, tire repair, and oil changes for hundreds of fleet companies in your area. We bring the tire shop to you so you can keep your vehicles on the road, generating revenue. Our fleet customers receive unique discounted pricing and we are equipped to work on trucks, vans, and company cars. We help to minimize your downtime by completing all service work before your fleet hits the road and on-demand repairs. Our online scheduling system makes it easy to reduce your administrative burden. By joining one of our maintenance programs you will also receive free monthly tire checks for your vehicles.
JACK Mobile fleet and repair services include:
Tire installation

Flat tire repair

Tire mounting and balancing

Tire rotation

TPMS reset

Valve stem replacement

Wheel cleaning

Hub Cleaning

Wiper Blade Replacement

Battery Replacement

Oil Changes
We work with our clients to create a custom tire maintenance schedule that ensures you keep your warranty commitments on track. Our technicians will also keep you compliant with DOT, OSHA, and EPA regulations.
Contact JACK Mobile for your free tire safety check or call 856-214-2009. We look forward to working with you.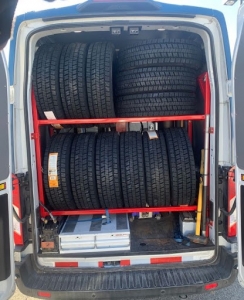 https://jackmobiletire.com/wp-content/uploads/2021/11/unnamed.jpg
342
512
Jack Mobile
http://jackmobiletire.com/wp-content/uploads/2020/10/JACKlogo-wTAGLINE.png
Jack Mobile
2021-11-24 13:35:23
2023-08-21 08:06:20
6 Benefits of Mobile Fleet Maintenance and Repair Services