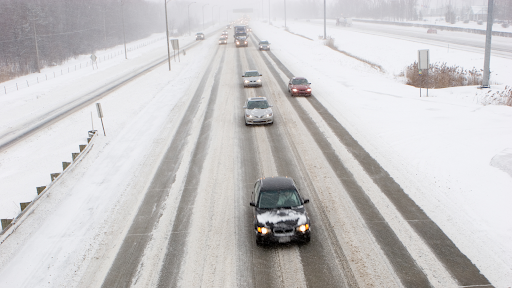 Look, hitting the roads in Pennsylvania during the winter can be a bit of a nightmare. You know you can expect cold weather, but the addition of freezing rain, sleet, and snow can end up turning your morning commute into a type of Hunger Games-style activity. 
While some mornings may be smooth-sailing with clear skies and clear roadways, if a storm blows through, you can end up with a substantially more dangerous drive, in only a matter of hours. The good news is, if you take steps to prepare your car for freezing weather before the weather hits, you'll be prepared for whatever Mother Nature throws your way.
Keep up with tire maintenance
One thing that's critical for safe driving in the winter is safe tires. Regardless of what type of tires you have, you want to make sure they're up to par when it comes to basic safety. Good tire tread means you'll have better traction if that cold rain turns into sleet (which it's inclined to do in Pennsylvania), so check to make sure your tires aren't in need of replacement. 
A good rule of thumb is to use a tire depth gauge to see how deep the tread is. If the tread is less than 4/32-inches deep, it's likely time to replace your tires. You may be able to get away with waiting a little longer, but at least use the 4/32-inch mark to start saving up for a new set of tires. The last thing you want to do is start slipping and sliding on the road when Pennsylvania's winter weather rears its ugly head.
Switch to winter tires
The tricky thing about Pennsylvania weather is that the roads aren't frozen and icy all winter long. You may have a good period where there's no ice or snow on the roads to contend with. Then, out of nowhere, you're suddenly faced with some seriously dangerous driving conditions. One way to always be prepared for whatever weather arises is to switch out your tires to winter tires at the first sign that cold weather is about to set in. Granted, winter tires can be an investment, and you typically have to pay a shop to switch them out for you every fall and spring, but without being overly melodramatic, they really could save your life. They're designed to improve traction and decrease stop times, especially in wet and icy conditions. Winter tires, also known as snow tires, are made up of different compounds that remain soft and flexible in the winter, providing better traction on the road surface. And if they prevent your car from sliding around on the ice, or if you're able to stop a skid faster, thanks to winter tires – Well, they just might save you from a nasty collision.
The trick is understanding which tires are best for you. Your best bet is to consult with a Jack Mobile Tire specialist through the chat feature on our website to discuss the best tire options for your car and your situation. You can also browse our tire selection at Jack Mobile Tire to get an idea of what you are looking for. At the end of the day, the goal should be to keep you, your car, and everyone else on the roadways safe, no matter the weather.
Check engine coolant and other fluids
Coolant is a crucial fluid that is needed by your car's engine to keep things cool and avoid overheating. During the wintertime, it is required to use antifreeze to keep your engine coolant from freezing and causing harm to your engine. Before Pennsylvania's winter hits, you'll want to check your coolant and antifreeze levels. But beyond that, you may want to have your coolant system flushed so that you can be assured your vehicle will not leave you stranded in the freezing cold weather. A coolant system flush removes all of the old coolant from your engine and heater system and replaces it with new coolant. If you are experiencing issues with your vehicle's heater not performing as it should, you may want to have a coolant flush performed. Over time the chemicals in the coolant and materials the coolant run throughout break down and cause a build-up and can even cause a blockage in your engine. You want to avoid this as this can lead to more expensive engine repairs. Take your car or truck to a Jack Williams service center and we will be happy to help you out. Our technicians can change, flush, or refill your engine coolant if it needs to be replaced.
Our skilled technicians can also take a look at all your other fluids (or check them yourself if you feel confident doing so). You want your car to be firing on all cylinders (so to speak) before it's faced with handling the cold temperatures and sometimes unexpected weather that's so common during Pennsylvania winters. A basic "car check-up" is always a good idea before that first winter storm hits.
Put together a winter survival kit
The final thing you should do in preparation for the first Pennsylvania freeze is to put together a "survival kit" to keep in your car. If you get stranded on a roadway during a winter storm, the last thing you want is to be stuck in the ice and snow without heat or a way to troubleshoot your issues. Think about all the things you might need — gear for yourself or those in the car with you, a first aid kit, and basic car repair supplies.
For instance, one or two heavy blankets, gloves, a hat, a heavy jacket, a flashlight with extra batteries, a phone charger, some non-perishable snacks, a set of car tools, jumper cables, flashers or reflective cones, a first aid kit, and a mini air compressor or a flat-tire fix spray to help you get back on the road. It's also a good idea to keep a shovel (the foldable ones are handy) if you park somewhere and find your car stuck in a snowdrift by the time you return.
It's also always a good idea to keep some water bottles on hand, but of course, they could freeze if you're stuck in the car without heat. So if you see a winter weather warning for Pennsylvania, consider putting water in an insulated, vacuum-sealed water bottle before storing it in your car. These types of bottles are great for preventing outside temperatures from changing the temperature of the water within the bottle. So in the event of an emergency, you'd still have drinkable water on hand.
https://jackmobiletire.com/wp-content/uploads/2022/02/unnamed.png
288
512
Jack Mobile
http://jackmobiletire.com/wp-content/uploads/2020/10/JACKlogo-wTAGLINE.png
Jack Mobile
2022-01-02 12:00:53
2022-02-16 12:38:41
Preparing your car for freezing weather in Pennsylvania