Most people do not inspect their tires before they get in to go for a drive. So you turn on your vehicle, the tire warning light on your dash comes on, and you realize you have a slow leak or even worse – a flat tire! Unfortunately, the last thing you want to do, and have time for, is to sit in a tire shop all day. Thankfully, JACK Mobile Tire now has a better way to fix your flat.
When you can't find time to make it to a tire shop, we bring the tire shop to you! When your tires are out of service, our techs will come to your location to get your vehicle back on the road. This includes your home, business, fleet location, or on the side of the road. Our team is committed to meeting you wherever you are, to make the flat tire repair process as convenient as possible.
Our mobile flat tire repair services provide value and convenience. We want to help you save time and get you back to doing the things you love.We come to you to change or repair a flat and perform valve stem replacement on site wherever you are. Also, no more messing around with a spare tire. We will eliminate that step and come to you to replace your spare tire. While our techs fix your flat, you can carry on with work, watching the kids, or head to the gym. We can also save you the expense of being towed in to fix a flat or get your tire repaired. Stop wasting time in waiting rooms and long lines and get your time back with JACK!
We also provide contact-free service to keep you and our technicians as safe as possible. This includes no contact scheduling, payment, and repair. Which means you do not even need to interact with the certified mobile tire technician on-site.
Our certified technicians are experts in the tire industry and will provide you with quality service. All of our technicians are full background checked, licensed, and insured. They also receive extensive training on tires and automotive service throughout the year.
We will repair your tire with an internal patch if it is repairable. Repairs can be made of punctures of up to ¼" diameter in a tire's tread area. If there is a puncture in the sidewall or shoulder area of the tire, the tire will need to be replaced. If this is the case, our certified technicians will help you decide the right tire for you and replace your tire right on the spot. We can also help install your spare tire if you need just need assistance with that. You'll be ready to roll again in no time. All tire pressures will also be set to specifications.
It is important to check your tire pressure. Under-inflated tires can cause shorter tread life, reduced fuel economy, and friction that can cause tire failure. Remember to frequently check your spare tire's pressure as well. Luckily, if you forget to and you need us to install it, we can come to you and fill it up with air.
Don't be left stranded over a flat tire. If you got a flat, call JACK! Contact JACK Mobile Tire at 833-571-5225 and let us come to you for a change. We operate in and around cities all over Pennsylvania, so there's always a JACK mobile technician only minutes away. So call JACK and get your vehicle back on the road in no time flat!
Ready to schedule a flat repair online? Get started HERE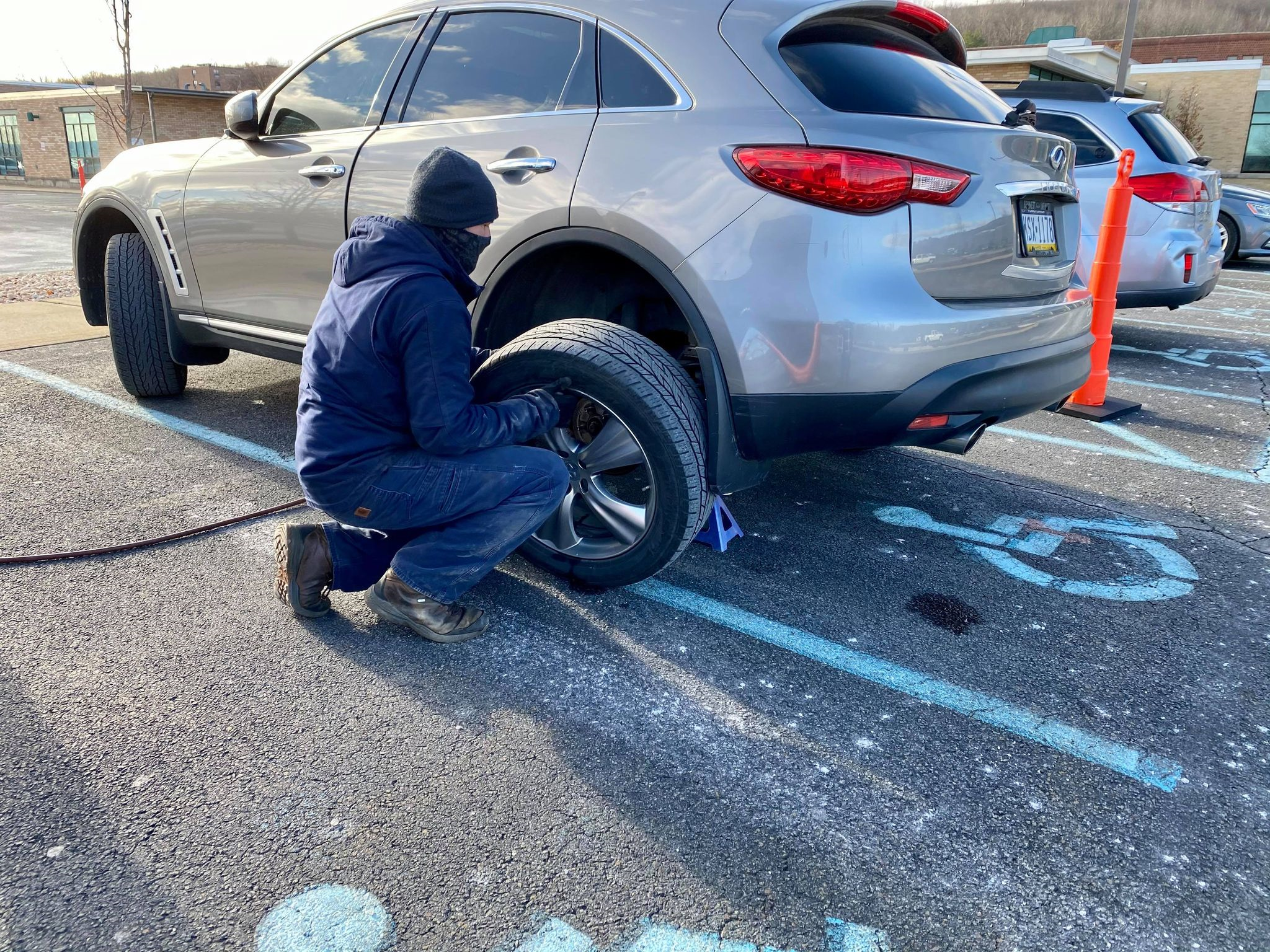 https://jackmobiletire.com/wp-content/uploads/2021/02/JACK-Mobile-Allied-Services-Flat-.png
1536
2048
Jack Mobile
http://jackmobiletire.com/wp-content/uploads/2020/10/JACKlogo-wTAGLINE.png
Jack Mobile
2021-03-17 17:50:38
2021-04-23 09:51:28
Let JACK Mobile Tire Fix Your Flat