With the recent spike in COVID-19 cases, health and safety is on everyone's mind right now. But so is the impending winter weather in Pennsylvania. Our local start up, JACK Mobile Tire, found a way to make sure safety is everyone's top priority by bringing the tire shop to you. Whether you're home or back to work in the office, we'll come to you with our no contact tire services and installations.
With JACK Mobile, it has never been easier (or safer) to schedule a winter tire installation. Simply visit our website, choose your tires, then pay and schedule your appointment all online. One of our certified technicians will come and install your new set of tires and we'll even take the all season ones and store them until you're ready to swap them out again. Upgrading from all season to winter tires has never been easier and it can be crucial to keeping you and your family safe during the harsher weather.
Winter tires are designed with technology to help improve your vehicle's handling and traction because of their thicker tread design that reduces snow build up in the tires. They're also made with a softer rubber compared to all-season tires which along with narrow grooves within the treads, allows them to get a better grip on snowy surfaces. Swap out your all-season tires with a set of winter tires this year to help you drive safe all season long.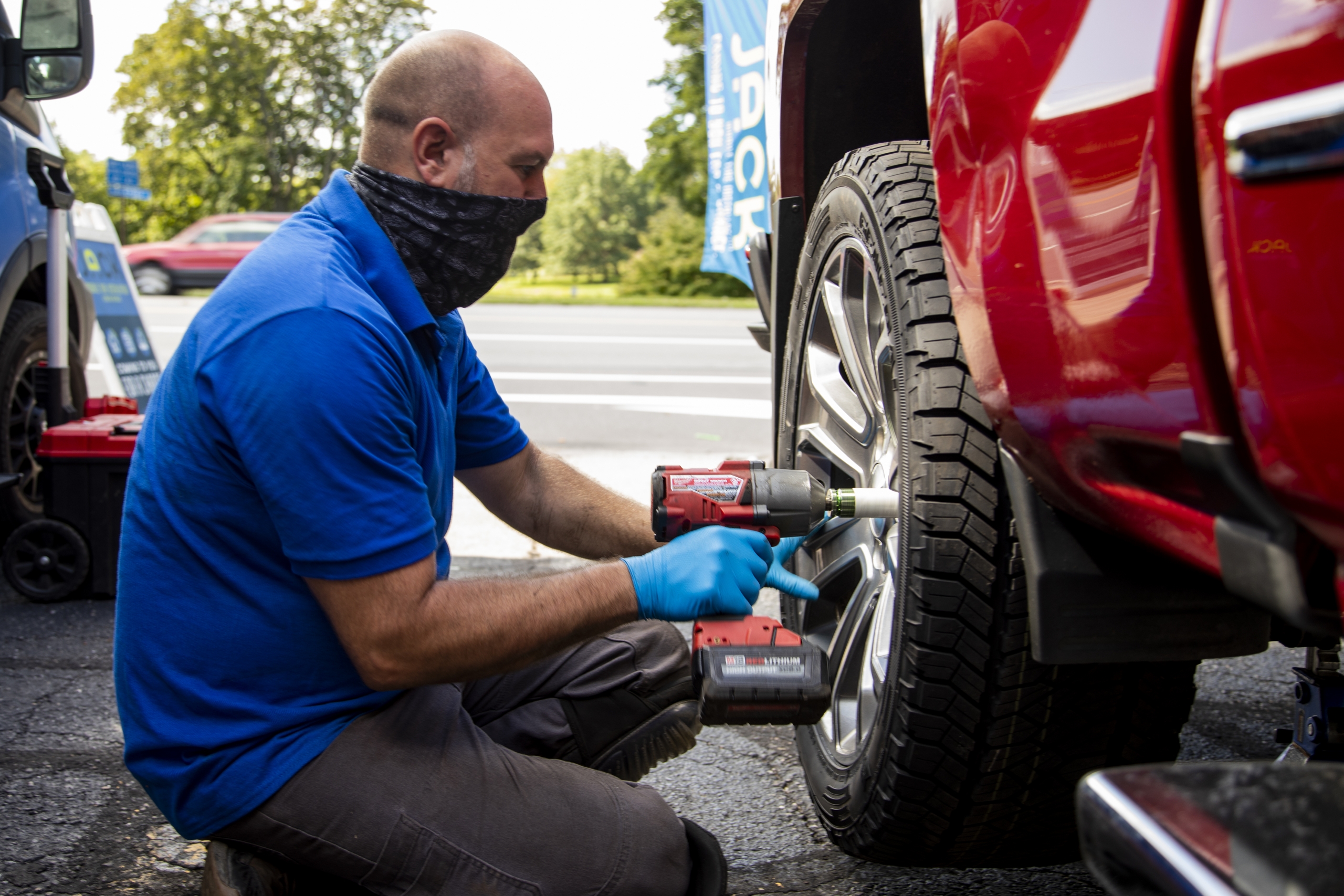 It's best practice to always get four winter tires installed on your vehicle to provide the best traction, braking, and handling in winter conditions. Only installing two new tires can upset the balance of traction and lead to a loss of vehicle control. Just like you shouldn't wear a running sneaker and a high heal, you shouldn't drive with different types of tires. We always recommend replacing in sets of four to ensure equal traction.
By eliminating the cost of brick and mortar stores, JACK is able to bring tire savings to you so you get the best price available on new tires all from the comfort and convenience of your own home. If you can't bear the thought of bringing the whole family into the shop and waiting for your winter tires to be installed, or if you simply can't get away from the office, don't worry- we'll come to you.
Ready to shop for winter tires and schedule your installation? Get Started by Clicking HERE!
https://jackmobiletire.com/wp-content/uploads/2020/12/JACK-Mobile-Tire-Install-scaled.jpg
1707
2560
Jack Mobile
http://jackmobiletire.com/wp-content/uploads/2020/10/JACKlogo-wTAGLINE.png
Jack Mobile
2021-02-17 17:22:41
2021-02-17 17:33:17
Local Start-Up Eliminating Waiting Rooms by Bringing Winter Tires to You